As a business unit of IMP Group, IMP Aerospace & Defence delivers customer-focused aerospace and defence solutions.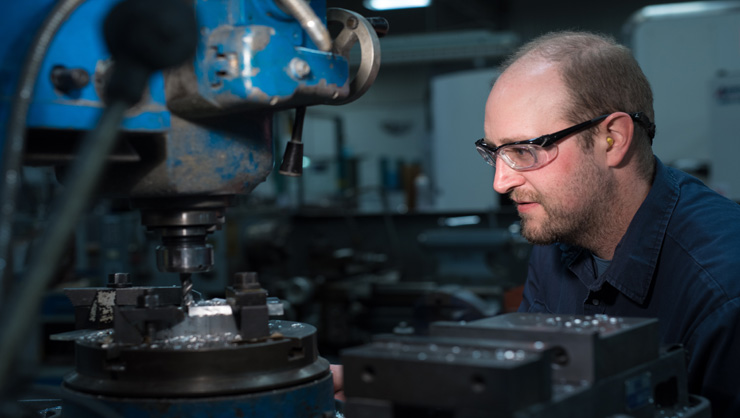 Our Services
IMP Aerospace & Defence has a strong background in supporting military, government, and commercial operators with a diverse range of service options and scalable solutions, custom fit to each client's specific operational needs.
With over sixty years of experience and an international reputation for quality services and products, IMP Aerospace & Defence employs more than 2,400 engineering, technical, and support staff working with ISO 9001 and AS9100 registered management and quality systems.
Through the use of operations strategically located across Canada, IMP Aerospace & Defence is able to offer clients the specialized expertise of an individual operation, as well as the opportunity to utilize the creative power and combined resources of a fully integrated aerospace and defence business. As a result, IMP Aerospace & Defence is capable of offering clients comprehensive turn-key solutions that are not available with other organizations.
From Abbotsford, BC to Gander, NL our diverse workforce has earned us a position as a leader in the aerospace and defence industry. Through hard work and innovation, IMP Aerospace & Defence has been able to work with some of the most important names in the industry. No matter what services you are looking for, from a highly skilled engineering solution to a complex problem, from manufacturing to comprehensive fleet in-service and life-cycle support, IMP Aerospace & Defence has the broad-based technical expertise and depth of experience to meet your needs.
---
Fleet Management / ISS
Scalable program solutions allows our customers to combine smaller contracts into one integrated that supports all requirements. As well a larger program can be expanded or reduced over its life depending need.
---
Maintenance, Repair & Overhaul
IMP Aerospace & Defence offers world-leading Maintenance, Repair, and Overhaul (MRO) services to the operators of a wide range of aircraft platforms and we excel at ensuring our customers benefit from our drive to keep our customer's high operability front of mind.
---
Missionization / Modernization
As one of Canada's longest-serving Design Approval Organization (DAO), IMP Aerospace & Defence provides full engineering services of piston to turbine conversions; full and combination cargo conversions; and for special roles such as reconnaissance, maritime patrol, search & rescue and firefighting.
---
Engineering Solutions
IMP Aerospace & Defence's engineering teams have worked closely with our customers for over 25 years developing and obtaining airworthiness approvals for major aircraft modifications, and is highly experienced in all aspects including aircraft structures, systems, avionics, interiors, electrical and flight analysis.
---
Technical Services
Through our highly skilled Technicians and Engineers, IMP Aerospace & Defence is able to support all aspects of military and civilian aerospace needs, regardless of project size.
---
Wire Harness - Design & Manufacture
Our cable assemblies include the design or build-to-print production of simple to complex multi-branch wire harnesses and are supported with advanced quality laser wire marking, metal and fabric braiding, and testing capabilities.
---
Electronics R&O
IMP Aerospace & Defence has extensive avionics repair, overhaul, and manufacture capabilities for both military and commercial requirements in multiple industries on multiple platforms.
---
Calibration
IMP Aerospace & Defence, an ISO 17025 certified calibration facility, provides expert services in calibrating torque, dimensional, and electrical equipment and calibration subcontract management services.
---
Component Manufacturing & Assembly
With more than four decades of experience, IMP Aerospace & Defence uses its expertise and experience to deliver manufactured, and/or to offer structural repairs, of aircraft and aerospace components, sub-assemblies, final assemblies, detail parts, monolithic machining and composite structures to the world's Original Equipment Manufacturers of the Aerospace & Defence Industry.
---
Post Processing
IMP Aerospace & Defence provides a wide range of processing capabilities that are designed to support in-house fabrication which reduce lead times, simply logistics and eliminate cost overruns.